Likkle bite is a blog that amplifies mom and pop shops, and good eateries. Likkle bite is a blog started in Albany, NY and travels where ever we go.
---
01. Maison Harlem
Harlem, NY
BLACK ANGUS HANGER STEAK – With red wine sauce & potato gratin
$31

I had the pleasure of visiting Maison Harlem during this summer (summer 2020). Due to Covid-19 we enjoyed our meal outside on the small patio eating area,which was a plus. Since Covid-19 restrictions have been throwing curve balls at small businesses this year, the resturaunt industry has had their fare share of them. I think as far as Covid compliances, Maison Harlem's service and adjustments to have they run their resutraunt was great. I was comfortable, the guests were spaced generously and I was happy with my service. Now for the entree, here I ordered the Black angus hanger. I was pleased with the service but the meal was something I myself probably just wasnt use to. The steak was amazing and juicy in all the right ways. It wasnt dry at all but the red wine sauce was a bit salty. Lastly, the potato gratin was different experice with potato for me. As a substitute, I ate the steak with their greens, buttered Spinach with mashed potates.

---
02. Lark St. Poké Bar
Albany,NY
$12+

[Lunch/Brunch]

Poké bar, is a place where sushi becomes somewhat contemporary. Theres so many things you can do with your meal that most traditonal sushi cuisines wouldn't offer. For example, this meal, you get to choose a choice of one protein, crab mix, seaweed salad, cucumber, masago, sesame seeds, jalapenos, spicy mayo, eel sauce and hot Cheetos. It may sound like allot because it is. If you love protien and spicy things then this is going to be up your alley. I chose avacado, chicken and crab meat for my protien and things to go inside my burrito, wrong move. I wouldn't advise you to do the same because it really threw off the taste for me but I can say the meal is worth it, only if you can affrod to dive into something new. The sushi bar is still new to the area but I like the expericne they have to offer to the community over all. Pre-Corona, most people could visit their indoor dining and bar like atmostphere of this eatery. Now you can get their food through delivery and they are closed on Sundays and open every other day of the week.

---
03. Bantam & Biddy

Atlanta

French toast, scrambled eggs and smoked bacon with freshly squeezed orange juice.
(Fav part of the meal)
$26

[Brunch Spot]

This is the meal I got at my now third visit to this eatery. This meal Is very fulfilling. The plate and maple syrup with the meal is served warm (so be careful when you just receive the plate). The French toast is made with a soft bread that absorbs the bread but not in a way that makes it soggy. I appreciate that because it also allows the toast to be a bit crispy still. I must add, the French toast here at this establishment is just that. The egg and bacon were additions to the toast. Lastly, the berries are probably one of my favorite parts of this meal. It compliments it with a sweet and sour type of taste. The Menu here is of a moderate selection of meals and things to drink. Meaning you have breakfast lunch and dinner selections but in general breakfast here runs all day. Also they have a great portion of the menu that are freshly squeezed juices (my favorite is the orange juice). This is why I feel like this eatery is a great nomination of a place to eat in Atlanta. It's busy, it displays an open kitchen which makes the atmosphere inviting and the staff are attentive and helpful. I believe because of this, it makes bantam and biddy a great brunch spot. They have a unique type of finesse when it comes to displaying what they have to offer their community of customers.
---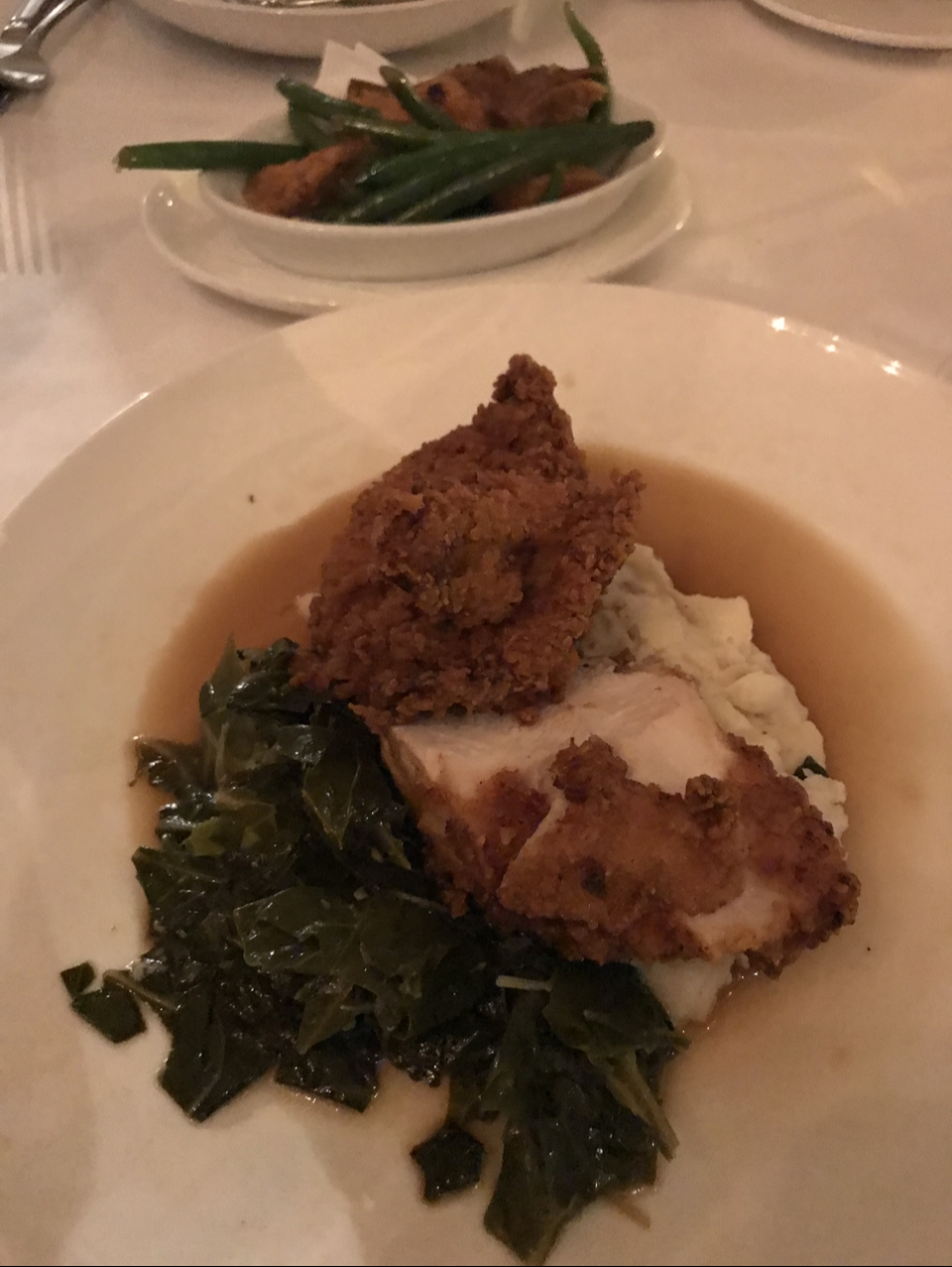 04.South City Kitchen (Midtown)

Atlanta, GA

Fried chicken with collard greens
On a bed of mashed potatoes.
A side of green beans and sweet potatoes.
Crab cake as an appetizer.
$2 - $350

[Brunch/Dinner]

South city kitchen is a chain of restaurants that serves southern comfort food.

This restaurant is on my list of places that fulfill the contemporary welcoming esthetic over all. If you're big on details and presentation, this restaurant takes the cake. What makes it unique is not only their approach in preparation of classic southern meals but it is the restaurants location itself. It is a classic modern small home turned restaurant that is now standing amongst midtown's tall buildings. The second thing that makes South city kitchen unique is their approach to classic meals, as stated before. I had opportunity to enjoy the friend chicken with collard greens and mashed potatoes. Now, we have all had this meal in some point in our lives right? If not, you've had one of the many things in this meal. This establishment executes it so gracefully. It is thoroughly cooked and so properly finessed that I was surprised at every bite. I took time to appreciate every piece. The aspect of the meal that brung it together was the gravy. It isn't overbearing and it holds the flavor of the meal. Lastly, the second item I got to enjoy from this restaurant is their crab cake. Just like the fried chicken meal it is done with such finesse. I can surely say with much confidence, i've never had a crab cake that was any better than what they have to offer here at south city kitchen. I enjoyed my stay at the restaurant and closed out the night with a zesty orange martini. If you're a wine connoisseur you'll enjoy the sommelier's suggestion on what you should drink. Overall, south city kitchen has a welcoming atmosphere. The floor plan of the midtown location is an open floor space. The tables are a bit close and if you do have a larger than normal party they have ample space to accommodate as needed. Also, amidst COVID-19 they now have secluded single seats for individuals at the bar. They also offer dining out on their patio (Veranda). This part of the restaurant is technically indoors so no need to cower away from eating there if the main part of their inner dining is full. I would suggest making a reservation prior to your visit. They can tend to be a bit busy so I suggest calling ahead to make a reservation. Even though they do take walk in's your options of when to dine there can be limited by the times they have available. If you visit Atlanta I hope you get to visit this establishment. It is one of the many gems in regards to restaurants that Atlanta has to offer.
---